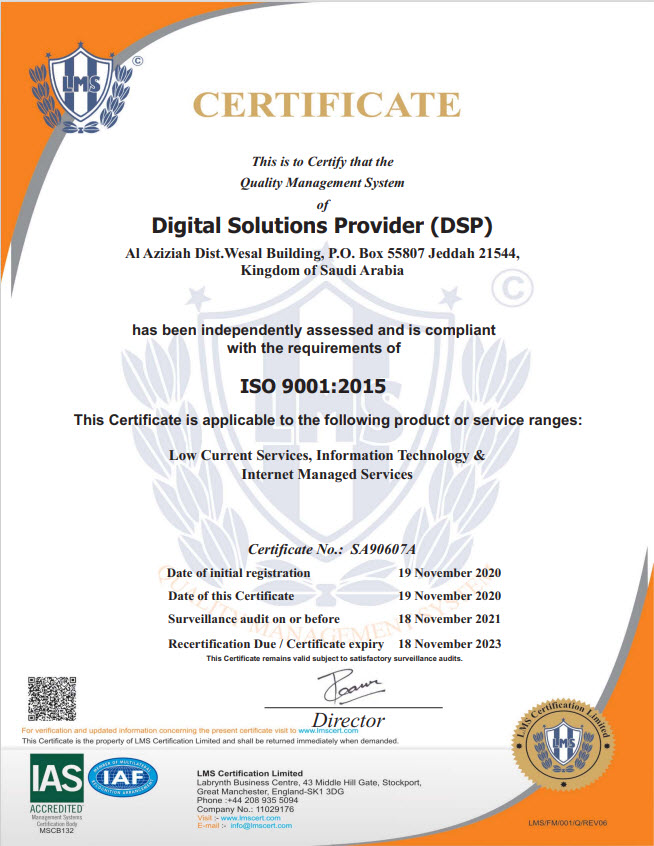 ISO 9001:2008 Certificate
An ISO 9001:2008 certification is verification that an organization is committed to enhancing customer satisfaction through the application of Quality Management System, with processes for continual improvement and the quality assurance in place. In accordance with the ISO relevant standards, DSP is ISO 9001:2008 Certified Company for Provision of Digital Solutions for Management of Building Facilities. This marks DSP to go into a higher level of processing and standardization as our clients can be confident that DSP is dedicated to maintaining the highest efficiency and responsiveness in achieving our ultimate goal-guaranteed client satisfaction.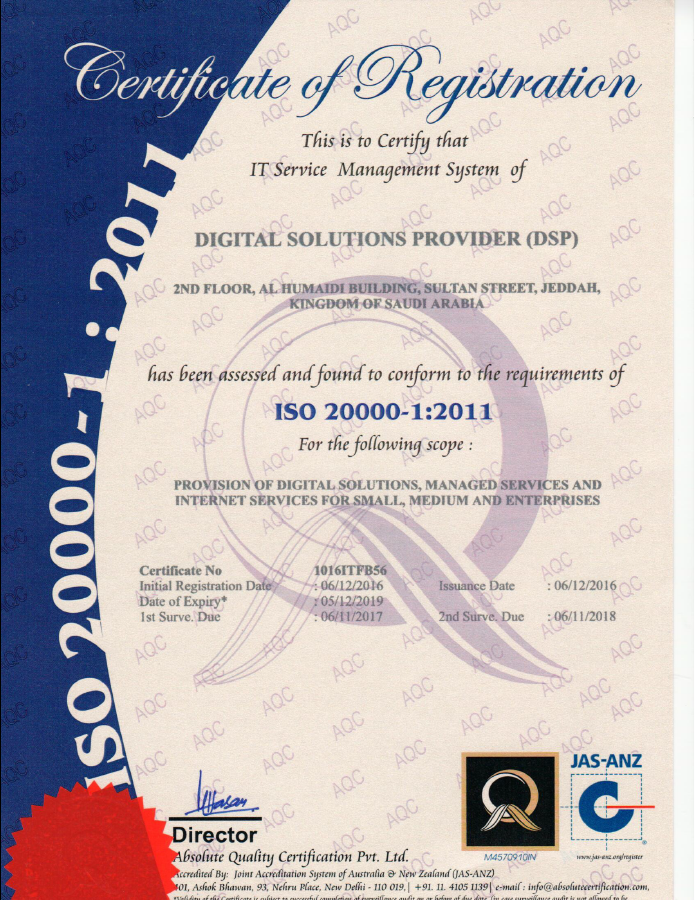 ISO 20000 Certificate (ITIL®)
ISO/IEC 20000 / The IT Infrastructure Library (ITIL®) is the most widely accepted platform to IT service management in the world. The Information Technology Infrastructure Library (ITIL) is a set of concepts and practices for managing Information Technology (IT) services and IT ​operations which changes the culture of the IT organization and demonstrates to our customers and future clients that we are at the forefront of IT governance best practices.​
The awarding of the ISO 20000 certificate proves that the DSP IT services meets the highest requirements for creation of optimum IT services management system, as well as its installation, implementation, monitoring and maintenance practices.
Accordingly, backed by the industry recognition we have gathered, DSP can ensure to its clients that the quality of services we deliver matches and exceeds their expectations and fulfilling their business objectives.
ISO 27001 Certificate (ISMS®)
ISO/IEC 27001:2013 specifies the requirements for establishing, implementing, maintaining and continually improving an information security management system within the context of the Company. It also includes requirements for the assessment and treatment of information security risks tailored to the needs of the Company.
ISO/IEC 27001 formally specifies an Information Security Management System (ISMS), a suite of activities concerning the management of information security risks. The ISMS is an overarching management framework through which the organization identifies, analyzes and addresses its information security risks and it's consist of 114 controls
The standard covers all types of organizations (e.g. commercial enterprises, government agencies, non-profits), all sizes (from micro-businesses to huge multinationals), and all industries or markets (e.g. retail, banking, defense, healthcare, education and government).